The value of a St. Scholastica education is about more than just money, a degree or a job. It's about the experience.
It's about learning who you are and who you want to be. It's about trying new things, setting goals and learning how to reach them.
We invite you to learn about the benefits of investing in a St. Scholastica education. Just hover over the icons below to explore the value of CSS.

Financial Aid

100 percent of our first-year students were offered financial aid for 2014-2015.
Between grants, scholarships and other financial aid, our first-year students were awarded an average of $22,531 per person — cutting the cost of attending by over half.
St. Scholastica has been named to Money Magazine's 2014 list of "The Best Colleges for Your Money," a national ranking given to colleges that "offer the most bang for your tuition buck."
Fun Fact #1
Much of your tuition investment goes right back into enhancing the educational experience — like the building of the new Science Center addition and all the state-of-the-art labs and equipment that go along with it.
Fun Fact #2
One of the comments we hear most often when people come to campus is how almost everyone holds the door open for you. Hospitality is one of the school's core Benedictine values, so you'll have no trouble finding a place where you belong.
Retention Rate

Nearly 84.6% of first-year students return for their Sophomore year.
Classes on Kanye West, fairy tales and Star Wars. Campus-wide showings of the Hunger Games. Christmas door decoration contests that bring Whoville to the halls. An entire day devoted to community service (with no classes). Study abroad trips that allow students to sing in the theaters of Italy or swap business tips with professionals across China. With all this, and more, there are plenty of reasons to stay...or go.
Experiential Learning

Seventy percent of students have an internship or experiential learning opportunities while at St. Scholastica.
A report from CNN indicates that "internships have become key in today's economy," and that "graduating students with paid or unpaid internships on their resume have a much better chance at landing a full-time position upon graduation." That's why we work hard to make sure our students have access to quality internships and experiential learning is woven into the curriculum of may programs- giving students the first-hand experience needed to stand out from the pile of resumes.
Fun Fact #4
The experience doesn't stop there. With a student/faculty ratio of 14.2-to-1, students get the individualized attention they need to make them experts in their given fields.
Graduation Rate

65% of the students who start here as freshmen, graduate from here four years later. This is comparable to other Minnesota private institutions, and significantly higher than many Minnesota public universities.
For most people college isn't a four-year journey. In fact, it takes the average student five and a half years to graduate. But at St. Scholastica, first-year undergraduates who follow a few simple guidelines will graduate in four years — guaranteed — or subsequent years are free - saving tens of thousands of dollars in wasted tuition and gaining tens of thousands more in salary during that time.
Destination Rate

More than 97% of graduates are employed or are in graduate school within six months of graduation.
With connections to employers across the state and a commitment to getting students on-the-job experience before graduation, our grads start blazing their career paths right after they leave...and sometimes long before that.
Fun Fact #5
Our grads are so attractive to employers, in part, because St. Scholastica is consistently ranked among the top Midwestern colleges and universities by U.S. News and World Report.
Starting Salaries

More than 70% of our 2013 graduates had a starting salary higher than $30,000/year — with 31% bringing home more than $50,000/year.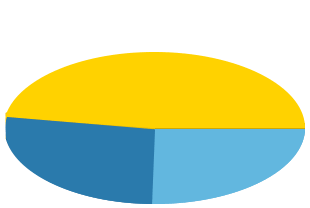 Not bad, eh?