Paying For College | Undergraduate
Helping you pay for your education
More than 98 percent of the College's full-time students take advantage of our many financial aid programs. Financial Aid staff will help you review options and get a clear picture of how much assistance you may expect to receive.
Financial aid checklist
Apply to and be accepted by St. Scholastica.

Fill out your FAFSA

The Free Application for Federal Student Aid (FAFSA) is required to be eligible for most financial aid. Submit this application as soon as possible. St. Scholastica's Federal School Code is 002343.

Benedictine and Summit Scholarships are awarded automatically to those who qualify. In addition, there are many scholarships offered by St. Scholastica and other organizations.

Benedictine Scholarship: The College annually awards merit-based scholarships to incoming students that range from $14,000 to $20,000 per year (renewable).
Financial Aid is part of OneStop Student Services
OneStop Student Services delivers a seamless process to all students, allowing them to self-manage the business of being a student. Students can register for classes, review grades, accept financial aid awards, view and pay bills and much more, all at one convenient location.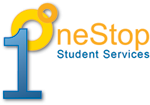 OneStop Student Services | Tower Hall 113
(218) 723-6570
(877) 287-8716
Fax: (218) 733-2255
onestop@css.edu
Available Monday through Friday from 8 a.m. to 4:30 p.m.