Position:
Professor/Dean, SON
Department:
SON Admin
Phone:
(218) 723-6021
E-Mail:
janderson16@css.edu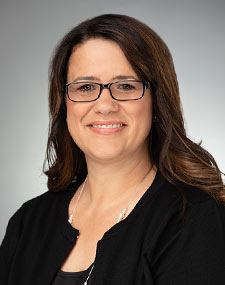 Position:
Asst Professor, NSG
Department:
Postbaccalaureate Nursing
Phone:
E-Mail:
calajoki@css.edu
My MSN specialized in Nursing Education and my teaching interests include the adult learner and creative teaching strategies such as the online learning environment. My nursing experience includes medical/surgical, emergency nursing, obstetrics - including labor and delivery, newborn care, and postpartum care - and occupational health and wellness nursing. I remain connected to obstetrics through teaching a childbirth and breastfeeding education class to expectant mothers.
I am raising my family in a rural community and have a passion for quality rural health care that meets the needs of all community members. I am a hockey mom who loves spending time with my husband and children on our boat and camping - we try to laugh with each other every single day.
Statement of Teaching Philosophy
My teaching philosophy is based on the concept that learning needs to be centered on each individual student while encouraging them to be self-motivated to maximize their learning opportunities. My role as a learner-centered instructor is to foster a positive learning environment that facilitates student learning through the use of multiple types of teaching exercises and activities (Blumberg, 2009). Active participation in learning encourages students to become critical thinkers which is an essential part of the nursing process that cannot be learned by instructors telling students what they need to know, rather this skill is built through student interaction in classroom activities that builds on students knowledge (Billings Halstead, 2009).
I believe personal interaction with all students and open communication that includes student-teacher dialogue creates opportunities for learning that cannot be reached through basic lecture format. Not only will I encourage open communication within the classroom setting, I will also put forth communication that is clear and concise so all students are aware of what they can expect from me as their instructor as well as what I will expect from them as the learner. I plan to incorporate a humanistic approach to my teaching style and will expect students to do the same while they are learning as this type of education encourages honesty, integrity, respect, caring, and accepting responsibility (Billings & Halstead, 2009). Using a learner-centered model with a humanistic approach encourages students of all diversities to be actively involved in classroom discussions through the use of personal stories and experiences - all of which encourage me as the instructor to be an ongoing learner. As an equal partner in the learning process, I will maintain a strong work ethic and high professional standards while remaining passionate about the field of nursing and understanding of my students individual needs and desires.
References
Billings, D. M., & Halstead, J. A. (2009). Teaching in nursing: A guide for faculty (3rd ed.). St. Louis, MO: Elsevier Saunders.
Blumberg, P. (2009). Developing learner-centered teaching. San Fransisco, CA: Jossey-Bass. Position:
Skills and Simulation Tech
Department:
Postbaccalaureate Nursing
Phone:
(218) 723-6650
E-Mail:
randerson8@css.edu
In my position as the skills and simulation tech for the undergraduate and graduate nursing programs at the Duluth campus, I work to ensure that the supplies, equipment, and lab spaces are ready for faculty and students to utilize each day. I am a graduate of Columbia Southern University with a B.S. in Occupational Safety and Health. I have proudly served in the U.S. Navy Reserve as a Hospital Corpsman, and in the U.S. Coast Guard as a Food Service Specialist.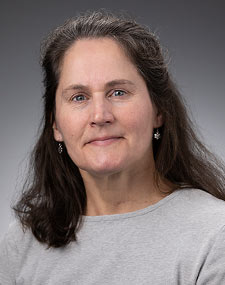 Position:
Asst Professor, NSG
Department:
Postbaccalaureate Nursing
Phone:
(218) 723-6279
E-Mail:
SBarlass@css.edu Position:
Admin Spec, Post-Bac NSG
Department:
Postbaccalaureate Nursing
Phone:
(218) 723-6546
E-Mail:
lbeck5@css.edu Position:
Asst Prof, Post Bac Nursing
Department:
Postbaccalaureate Nursing
Phone:
E-Mail:
lbisila@css.edu
Website:
View
I obtained my master's in nursing with a concentration in nursing education in 2016 from Liberty University. I have been an RN since 1994 and I have a passion for working with the geriatric population, clients with dementia, and Hospice care. However, I also have a background in the emergency department, nursing education and as a firefighter/EMS. I believe in a holistic approach to care and I am certified in Healing Touch and Healing Touch Spiritual Ministries.
I am married and mother of seven wonderful chldren. In my spare time I like to spend time with family and friends and all of my furry babies. I also, enjoy traveling, sewing, and crafts. I believe that each day is a gift from the Lord and we must live it to the fullest. Position:
Asst Professor, Post-Bac NSG
Department:
Postbaccalaureate Nursing
Phone:
E-Mail:
rherheim@css.edu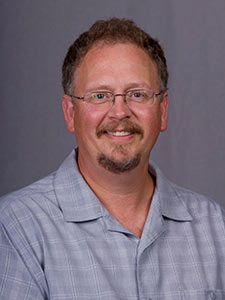 Position:
Assoc Professor, NSG
Department:
Postbaccalaureate Nursing
Phone:
(218) 625-2784
E-Mail:
ckemnitz@css.edu
Dr. Kemnitz has baccalaureate degrees in Biology and Nursing from Carroll University and the University of WIsconsin Oshkosh respectively. He received his PhD in physiology from Marquette University, Milwaukee, WI in 1994 with a specialization in neurophysiology and completed a Masters of Nursing Education in 2015 at Western Governors University. Dr. Kemnitz has extensive collegiate teaching experience in biology and nursing and has been the recipient of several awards and honors including the Max Levine Award for Excellence in Scholarship, the Daisy Award for Teaching Excellence in Nursing, and is a Minnesota Hartford Geriatric Nursing Scholar and FLAG fellow. Nationally, Dr. Kemnitz is a recognized subject matter expert in anatomy & physiology and nursing and is a consultant for the American Council on Education. Dr. Kemnitz has published and presented many articles in basic science and educational practices. He continues to pursue his interests in geriatrics and nursing education. Most recently Dr. Kemnitz was selected as a Sigma Theta Tau International Rising Star for his masters thesis work on nursing student clinical evaluation. Position:
Asst Professor, Post-Bacc Nrsg
Department:
Postbaccalaureate Nursing
Phone:
E-Mail:
mlindberg1@css.edu
My MSN specialized in Nursing Education. My teaching interests include simulation and teaching in an online learning environment. My nursing experience is in medical/surgical areas. I worked in Orthopedics and Neuroscience units most of my nursing career. I continue to work at a Nursing home and a critical access hospital.
I live in a small rural area where my husband and I are raising our family. We are active members of our community and school system. My 2 boys are active in sports, which keeps me very busy.
STATEMENT OF TEACHING PHILOSOPHY
My teaching philosophy is based from my belief that the measure of a teacher's success is how effectively the teacher prepares students, not only for subsequent courses, but for their future professional careers. In recognizing this instructional purpose, nursing instructors must provide a solid knowledge foundation, aid in skill acquisition, assist students in developing critical thinking skills, and provide for memorable, worthwhile learning experiences. Nursing instructors must also socialize students to their new nursing profession, convey an excitement and passion for nursing, and instill core nursing values. This is largely achieved through role modeling such behaviors in all types of learning environments, both formal and informal. As a nurse educator, I recognize the impact my instruction, behavior and attitudes have in shaping not only students' perception of nursing, but their future practice.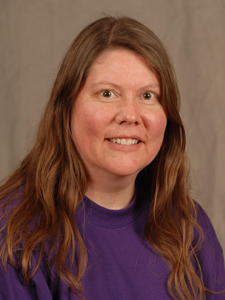 Position:
Asst Professor, NSG
Department:
Postbaccalaureate Nursing
Phone:
(218) 723-5946
E-Mail:
LLindgre@css.edu
AREA OF SPECIALTY
Ms. Lindgren's areas of specialty include holistic nursing practices, public health care, and obstetrical care. She is a certified Family Nurse Practitioner, and is also certified in Healing Touch. Lori has over 20 years of experience serving people who are low income and homeless. For the past 5 years she has taught primarily the theory content for maternal child, integral health, evidence based practice, public health clinical and nutrition. She has taught the sophomore, junior, and senior undergraduate nursing students, as well as the postbaccalaureate nursing students.
PHILOSOPHY
The philosophy of holistic and integral care has been a cornerstone for the care that I provide to patients as a nurse and nurse practitioner and I continue to embrace this philosophy as a teacher. Students are more than just students. They bring a unique set of experiences to the classroom. They are individuals with specific needs and gifts. I incorporate their unique experiences into the classroom by asking questions about life experiences and about how to apply other aspects of their education to the current classroom. My teaching philosophy reflects aspects of the integrative model for the School of Nursing and the Benedictine values here at St. Scholastica. The School of Nursing model incorporates the mind, body, and spirit of the person with a focus on an integrative approach to health promotion, a healing journey with illness, and a global perspective with population based health. The skills that are utilized include competence, caring, critical thinking, collaboration and communication. The Benedictine values include community, hospitality, respect, stewardship (social justice) and love of learning. Having students learn about the art and science of nursing, themselves, asking pertinent questions, and paying attention to prevention are ways to reflect this model and these values as it pertains to my teaching philosophy.
Primary Goals in Teaching:
To have students learn the art and science of nursing.
We learn from evidence based practice the ways to provide the most effective care, and yet there is the human element of caring that adds a dimension that is not easily researched. I believe the element of caring is critical to the art and science of nursing, and to my teaching. It is the art of nursing. One way I will demonstrate this in my classroom is by role playing a patient and having students ask me questions and provide teaching/counseling. They soon realize that no two circumstances will be the same. The art of care is the dynamic interplay between two people in the classroom or between nurse and patient.
To have students learn about themselves and embrace their unique nature and gifts.
The holistic, integral philosophy allows me to consider the diverse backgrounds of students and understand their unique gifts to the classroom and to nursing. Diversity is more than the ethnic or cultural origins of a person. For me, diversity is the complex individual experiences, interests, and beliefs of the students. Incorporating these factors into my classroom adds a unique richness to the content being discussed.
To have students learn the art of asking pertinent questions.
Learning the art of asking a question not only incorporates what question to ask and when, but why that question is relevant and most importantly how to ask the question with respectful curiosity. Learning the art of asking pertinent questions will aid the student in self-reflection and self-awareness, which brings us back to the first goal. To know ones limitations and strengths is an important attribute in nursing for many reasons, but primarily to provide safe and appropriate nursing care. Also, learning the art of asking pertinent questions will aid the student in life-long learning.
To have students learn to pay attention to aspects of prevention as it pertains to health care.
Culturally, our health care system is based on a response to people with illness/disease when it occurs. This response-based approach needs to be reformed. One of the ways that is discussed at various conferences and through literature is to focus on prevention interventions. Nursing texts are primarily written in a way that is a response to the illness. What I attempt to do in the classroom is have students pay attention to what interventions could be applied to prevent the disease/illness for patients. The focus on prevention alerts the students to health care disparities and social issues of a more complex nature instead of only learning how to respond to a person with a health issue. Both prevention and response are important to provide optimal health care to people.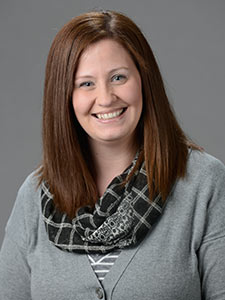 Position:
Coord, Educational Exp, NSG
Department:
Postbaccalaureate Nursing
Phone:
(218) 723-6025
E-Mail:
AMcQuear@css.edu Position:
Asst Prof, Grad Nursing
Department:
Postbaccalaureate Nursing
Phone:
E-Mail:
bpettinelli@css.edu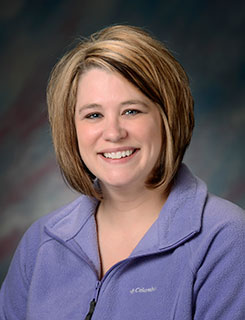 Position:
Asst Professor, NSG
Department:
Postbaccalaureate Nursing
Phone:
(218) 723-6296
E-Mail:
KRengo@css.edu
As a practicing Psychiatric-Mental Health Nurse Practitioner, I have developed a passion for working with people who are living with a variety of mental illnesses. This field of nursing has a lot to offer with it's unique experiences and varied settings. The mentally ill are one of the most underserved populations in the country; and, while the number of people diagnosed with mental illnesses continues to grow, the number of nurses who work with this population are declining.
From an academic perspective, I would like to bring more focus to mental health issues of adults and better educate nursing students to work with them in a clinical setting. Current trends show that many patients in the hospital have a psychiatric illness that coincides with their medical problems and makes it more difficult to provide effective care for them. Students need to be able to identify these patients and develop nursing interventions specific to their medical and mental health needs to ensure optimal healing.
I believe that students learn and retain material better if they can find a meaningful connection between the material and their life experiences. It is that belief that drives my use of active learning in the classroom and clinical settings. Rather than using a traditional style of lecture, I have students complete the reading and other individual assignments outside of class, so we can focus on applying the material during class. I provide a variety of real life examples during class to help students make emotional connections with the material being discussed. In addition, I offer a clinical experience that is guided by nurses working in mental health, so students are able to participate first hand in caring for patients with mental illnesses.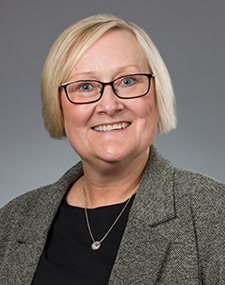 Position:
Assoc Professor, NSG
Department:
Postbaccalaureate Nursing
Phone:
(218) 723-6390
E-Mail:
SSandahl@css.edu
Chair of the Post-baccalaureate nursing program since 2007. I am a Certified Nurse Practitioner in pediatrics with over twenty years of pediatric experience. Teaching interests include adult learners, curriculum development and evaluation, and active, collaborative teaching strategies. Research interests, including doctoral work, include collaborative testing as a learning strategy in nursing education and socialization behaviors of nursing students. Enjoys sewing, reading, and hiking in the north woods with her husband and three dogs.