Position:
Asst Professor, ATR
Department:
Athletic Training
Phone:
(218) 723-6002
E-Mail:
ABrugge@css.edu
Ms. Amy Brugge joined The College of St. Scholastica in July 2009 as the department's first Academic Clinical Director. She was hired to develop, oversee, and assess all phases of the clinical education program as well as teaching in the department. She was previously at University of Wisconsin Stevens Point where she served as Lecturer/Assistant Athletic Trainer.
During her tenure there she worked with the Men's Ice Hockey, Women's Soccer, Women's Softball, Women's Tennis, Women's Golf, and Cross Country Teams. Amy also taught in the School of Health, Exercise Science, and Athletics. Prior to that she completed her Post-Certification Master's in Athletic Training at Indiana University in Bloomington in 2005 and her BS in Athletic Training from Minnesota State University-Mankato.
Ms. Brugge is a certified member of the NATA, a registered athletic trainer in the state of Minnesota, a Clinical Instructor Educator, and American Red Cross Emergency Response Instructor. She has also completed the Graston Soft Tissue Mobilization M-1 and M-2 Module and Kinesio Taping Levels 1 & 2. Previously, Amy has served as the GLATA (Great Lakes Athletic Trainers' Association) Student Senate Advisor and is the current MATA (Minnesota Athletic Trainers' Association) Student Senate Advisor.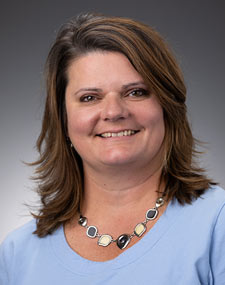 Position:
Asst Professor, HIM
Department:
H I M
Phone:
(218) 723-6156
E-Mail:
JWapola@css.edu
Website:
View
Introduction / Background
BA College of St. Scholastica in 1995 - MA College of St. Scholastica in 2006
Current Roles, Associations, Affiliations
Janelle started her career holding these types of jobs: HIM consulting, operations manager and release of information specialist.Upon her arrival at St. Scholastica in 2003, she became a Technology Lead, helping to implement the academic electronic health record into the Health Sciences curriculum (The ATHENS Project).After the grant-funded, ATHENS Project was complete; Janelle became a full time faculty, teaching classes in undergraduate as well as graduate classes.
At the College, she currently serves as the faculty advisor to the Student Health Information Management Association (SHIMA) and various College committees such as the undergradate admissions, faculty/student group and various departmental committees.
Additionally she is currently a HIT Consultant for the REACH program, serving Minnesota and North Dakota. She is also a member and regularly attends AHIMA, MHIMA and NEMHIMA.
Interests / Specialties
As she continues to be interested in the various areas associated with the (EHR): implementation, workflow redesign, privacy & security and meaningful use, she would like to seek out more opportunities for international travel in the HIM arena.
Recent Publications, Presentations and Recognitions
Co-author with Danika Brinda, MA, RHIA, of the chapter titled: Electronic Health Record: Applications in Practice.Health Information Management: Concepts, Principles and Practices (4th Ed) published by the American Health Information Management Association. This text was published in 2013.
Co-author of the textbook entitled, Using the EHR in the Physician Office Practice with two colleagues: Shirley Eichenwald-Maki, MBA, RHIA, FAHIMA and Bonnie Patterson, Ph.D., RHIA. This text was published in 2013.
Co-authored Case Study: The ATHENS Project: Advancing Technology in Healthcare Education Now at St. Scholastica published in Nursing and Informatics for the 21stCentury: An International Look at Practice, Trends and the Future, Second Edition. Edited by Charlotte A. Weaver, RN, PHD, FHIMSS; Connie White Delaney, PHD, RN, FAAN, FACMI; Patrick Weber, RN, MA, and Robyn L. Carr, RGON. Published by the Health Information Management Systems Society, Chicago, IL. 2010.
Speaker, AHIMA's Assembely on Education Annual Meeting, HIM, Meaninful Use and Extension Centers: A View from the Frontline (July 2012)
Speaker, Northeast Minnesota Health Care Forum, Personal Health Records. (June, 2012)
Participant, AHIMA Capitol Hill Day in Washington, DC. (March 2012)

Recognitions:
Co-recipient along with the College of St. Scholastica's ATHENS Project Team of Health Data Management Editor's Choice Award for Innovator of the Year for the ATHENS Project, presented at the World Health Innovation and Technology Congress (WHITv4.0) Washington, DC in 2008.
Teaching philosophy
While developing my teaching philosophy, I believe in emphasizing a healthy balance to life, school and work. I encourage optimism, compassion and advocacy for those in need.
A Personal Note
My personal joy is in being a mother to Tyler and Daniel and capturing life through pictures. My boys are a whirlwind of energy and knowledge and they teach me many things. The most importantly has been to stop and be in the moment! I am also excited to be a part of international travel with CSS and the HIM Department. My travels to India in January 2011 and Germany 2014 were extraordinary; visiting hospitals, villages, schools and universities. I was very fortunate to be a part of something so unique and interesting!