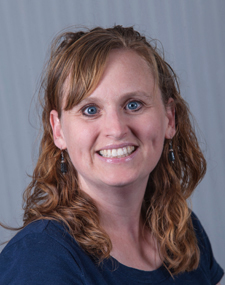 Position:
Asst Professor, GCL
Department:
Global Cultural & Language Studies
Phone:
(218) 723-6446
E-Mail:
EVosen@css.edu
Elyse Carter Vosen, Ph.D. (University of Pennsylvania) in Anthropology of Music teaches cultural anthropology, social and cultural theory, migration theory, postcolonial literature, and courses on music, dance, gender, and popular culture. She directs the Oreck-Alpern Interreligious Forum, a College-community partnership which promotes respect, understanding and peace among the diverse spiritual communities of the region through dialogue, service, and collaborative projects and events. She is also advisor to United for Africa, a student organization engaging with the politics, culture, and global impact of the African continent and diaspora. She has recently authored an article on Ojibwe Music for the New Grove Dictionary of American Music (2013), a chapter on four generations of North American indigenous protest music in The Routledge History of Social Protest in Popular Music (2013), and chapter in Music and Modernity among First Peoples of North America (forthcoming, 2015).
Position:
Retiree - B. King
Department:
History
Phone:
(218) 723-6170
E-Mail:
BKing@css.edu
Website:
View
Assistant Professor of History & Politics
Director of American Indian Studies
M.S.W. University of Utah
B.S. Brigham Young University
Barbara King is an Assistant Professor and Director of the American Indian Studies Program at the College of St. Scholastica. She coordinates course offerings for an American Indian Studies minor. Before joining the St. Scholastica faculty in 1985, she taught in the School of Social Development, University of Minnesota, Duluth, where she was Chair of the Social Work Program and Project Administrator, American Indian Program. At UMD she also served as liaison to Region V Child Welfare Training Center, administered a federally funded grant to provide skill training for American Indians, and developed a continuing education program for American Indians. In 1977 she was Director of Tribal Social Services for the Menominee Restoration Committee, Keshena, Wisconsin.
Professor King has been recognized by the Ohoyo 1982 Resource Guide of American Indian-Alaska Native Women. She is the recipient of a Council on Social Work Education Fellowship and a National Institute of Mental Health Stipend, and has served on the Board of Directors of the Minnesota Humanities Commission, Woodland Hills, and the Minnesota Conference on Social Work Education. She has made professional presentations before the Bureau of Indian Affairs in Billings, Montana, the National Association of Social Workers in Washington, D.C., and the Council on Social Work Education in St. Louis.
Publications
"The Social Development Role in Reservation Mental Health," Indian Mental Health Curriculum Module in Working with Urban American Indian Families, American Indian Projects, Arizona State University (coauthor).
"Using Education for Social Change with Reservation Indians," Rural Areas: Issues and Opportunities, University of Wyoming (coauthor).
Migwich Gi Chi Mindo, Reflections on Indian Life by Ike Greensky (publisher).
Position:
Asst Professor, EDU
Department:
Education
Phone:
(218) 723-5992
E-Mail:
VTanner@css.edu
Valerie began her teaching career at the Bugonaygeshig School on the Leech Lake Reservation, where she taught for three years in a self-contained classroom for children with emotional/behavioral disabilities. Valerie then moved to the Cass Lake-Bena Elementary School in Cass Lake, Minnesota. The Cass Lake-Bena Elementary School is a public school with an American Indian population of 80%. In Cass Lake, Valerie continued to work with children with emotional/behavioral disabilities. After three more years in special education, she moved to regular education and taught in a fifth grade classroom. In 1997, Valerie accepted a position with the Department of Children, Families and Learning-Office of Indian Education as supervisor for the Duluth Field Office of Indian Education. In the fall of 2003, she began to work as an assistant professor for the College of St. Scholastica in Duluth, MN. Currently, Ms. Tanner resides as Chair of the Undergrad Program in the School of Education. Valerie received her B.S. from the University of North Dakota, her M.S. from the University of Minnesota-Duluth, and has taken course work in the Doctoral Program, "Educational Leadership", at the University of Minnesota-Twin Cities. Valerie is an enrolled member of the Leech Lake Reservation and the mother of three awe-inspiring children.